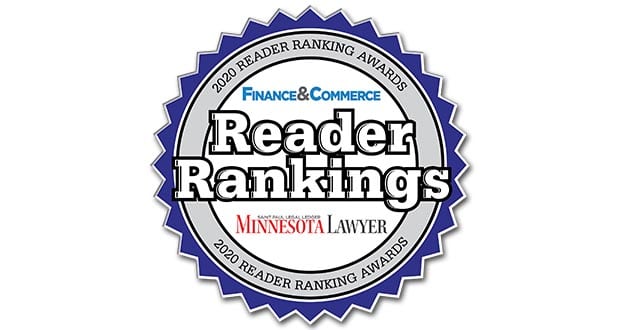 We are the happy recipients of the 2020 Reader Ranking Award for "Best Digital Forensics" published by the esteemed Minnesota Lawyer.  As a result, this is our second time winning first place for this award. Last year we began writing our column on digital forensics entitled "Exemplary Evidence" published by Minnesota Lawyer.  So we are pleased to receive this honor from our readers.  Above all, we are proud of the accomplishment!
Minnesota Lawyer said in their announcement, "For the past four years the readers of Finance & Commerce and Minnesota Lawyer have chosen their most trusted brands and business partners. This year's selections include many repeat winners and several newcomers."  We heartily thank all of the Minnesota lawyers who voted for us again. Or, maybe you voted for us for the first time. We feel great to be ranked "Best Digital Forensics" in 2020.  Most importantly, we won't soon forget capturing the 2020 Reader Ranking Award from Minnesota Lawyer!
Carney Forensics appreciates the support of Minnesota's lawyers. We work hard every day to deliver the best digital forensics you need to win and advantageously settle cases.  And last but not least, your confidence in us is an honor!