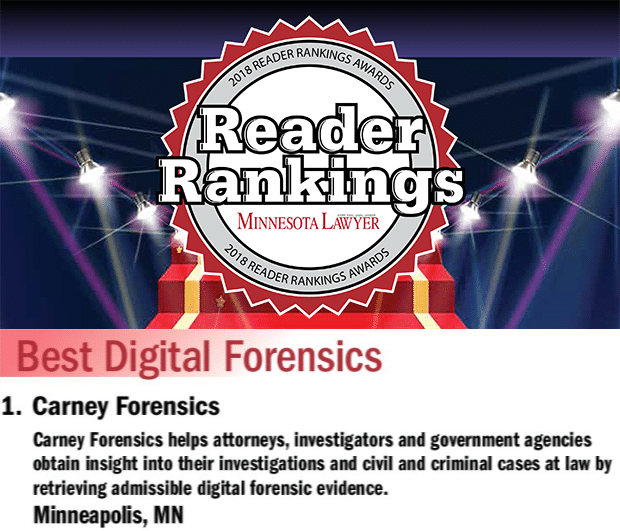 We are proud recipients of our first ever 2018 Reader Rankings Award for "Best Digital Forensics".  They are published annually by the esteemed Minnesota Lawyer.
We thank all of our lawyers who've hired us.  And those of you who attend our CLEs all over the state.  Thank you for voting and ranking us "Best Digital Forensics" in Minnesota.
Speaking of their readers, Minnesota Lawyer said about the 2018 Reader Rankings Award, "You know who does it best. And you told us." We are honored by your confidence in us.
"To receive this honor is something these businesses will want to brag about for quite a while. And they should." And we will, but we'll be reasonable about it.
"The top companies represented in each of the categories help you in your work across the spectrum of your lawyering.  Some have been around for many years, offering stellar services." We have been serving Minnesota's lawyers for over ten years now with digital forensic evidence.  We also provide expert witness testimony in the courtroom.
We recognize the support of Minnesota's lawyers. And we work hard every day to deliver the digital evidence you need and to earn your business.